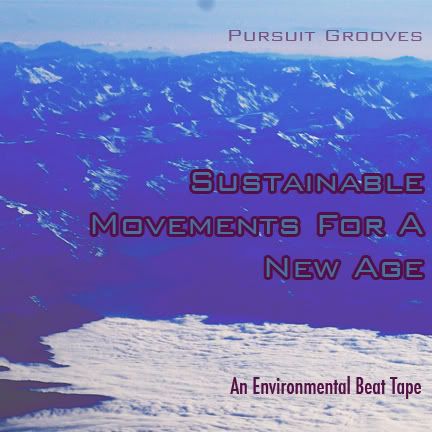 Sustainable Movements for A New Age by Pursuit Grooves
*20 downtempo rhythms with titles that focus on the environment
and the impact it has around us.
Vanese Smith also known as music producer Pursuit Grooves,
received a Holistic Health certificate in 2005 after wanting
to learn more about how our daily actions including what we
do and how we eat not only affect us as individuals
but contribute to the overall welfare of the community. In
2009, there has never been more of an urgency to spread the
word about how every action toward sustainable living will
slow the process of the negative effects on the future.
The share date for Sustainable Movements for A New Age is
timed for April in honor of Earth Day. This is a free digi album
to save on materials. Look out for organic cotton t-shirts
with a few song titles on them available soon.
Sustainable Movements for a New Age
Tracklist:
Ecosystematics
Windmills
Electric Company Cars
Petrol Water Feeders
Footprints Galore
Dirty Clean Coal
Fear of Genetic Engineers
Pest Insides
Canvas Tote Bags
Renewabilities
Nuclear Rainbows
Crap Snacks
Solar Panels
Lost Honey Bees
Partially Hydrogenated Arteries
War Crimes in Space
All Things Green
Fresher Than Yours
Tricycle Network
Quality Goods
Sustainable Movements for a New Age
Bonus
Sustainable Mashups (6 R&B remixes)
Shes Also open for bookings as of now